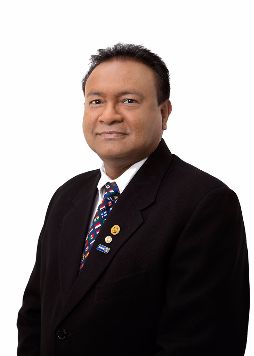 Civil Society Representative from the Rotary Club.

Dev Gosine graduated from the University of the West Indies with a BSc in Pure Physics and Applied Physics.
He has held the following offices in Rotary: President (two terms), Assistant Governor, and District Secretary of Rotary District 7030. He is part of the District Training team with the responsibility for training Rotary Presidents and Assistant Governors for their terms in office.
He is very involved in Amateur Radio using voice and all modes of digital communication. He is also very active in the Orbiting Satellites Carrying Amateur Radio (OSCAR). He has built satellite tracking systems to track the polar orbiting satellites, including the Space Shuttles, and CAT systems to correct tranceiver's receive and transmit frequencies for Doppler Shift.

He has had several historic voice contacts with astronauts on board several Space shuttle missions even with students from Naparima College.
He is also engaged in low power (less than 10 W) point to point high frequency world wide digital communications coupled with remote station operation.
He is the Secretary of Trinidad & Tobago Amateur Radio Society
Dev Gosine is also the Vice Principal at Naparima College, San Fernando.